Ben Reddell Band ¡LA Baby! 
Releasing July 9th 

http://www.benreddellband.com/ 
Check out the bonus single "Hey" 
Interview with Whisky Preachin' 
Ben Reddell is the quintessential urban cowboy.  Born and raised in Texas, he now lives in the citified jungle of LA's Echo Park and both of these environments are reflected in his music.  LA Record's Chris Ziegler described the band like this, "If you saw the film Heartworn Highways, and if you laughed and then tried not to cry at all the appropriately hilarious and heartbreaking moments, you're primed for Ben Reddell's band. They'll ready the beer if you've got the tears." 
Ben is also a linchpin of the Los Angeles roots music scene. Along with leading the Ben Reddell Band, he hosts a weekly live show (before the pandemic) called The Grand Ole Echo,  and he is also known for playing bass in Leslie and the Badgers, Elijah Ocean's band, with indie pop band, GospelbeacH AND on Rod Melacon's Southern Gothic album. 
"Texas roots rocker relocated to LA with a drive to create some new cosmic American music.  A hard driving, hard rocking country rocker that isn't afraid to roll up his shirt sleeves, he invites you to put the top down and blast this on the open road.  Right in the groove throughout"—Midwest Record 
"Let me introduce you to the Ben Reddell Band and the album that should be top and tailing your soundtrack this summer, the music of your future nostalgia."—Whiskey Preachin' 
"The lyrics and melody on "Bar Blues" are reminiscent of a Tom T. Hall or Robert Earl Keen song, while the accordion on "If You Love Her and You Need Her" and "Good Thing" will make you move in your chair if you're not already on the dance floor."—Rootsville 
RECORD RELEASE PARTY JULY 18TH 4PM AT THE ECHO IN LOS ANGELES, CA 1822 SUNSET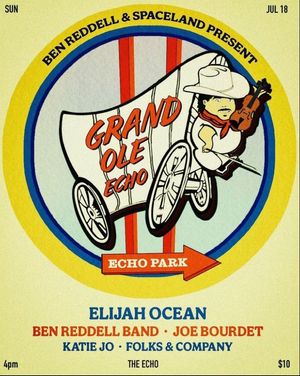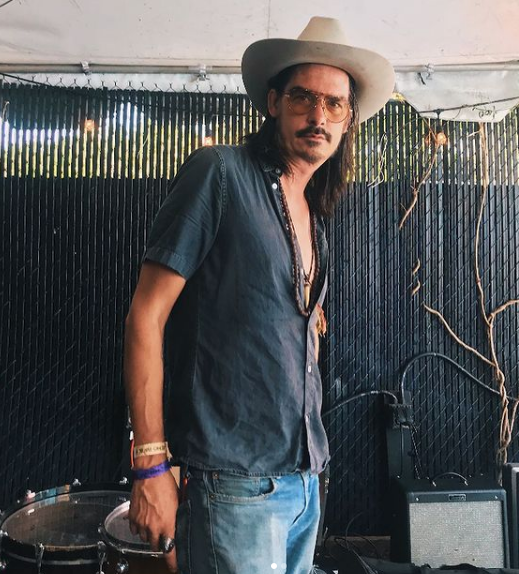 BEN REDDELL BAND TO RELEASE ¡LA BABY! 
A 6-Song Country Music EP Reflecting L.A.'s Urban Attitude 
(Releasing on July 9, 2021) 
Los Angeles, CA —Bryan, Texas-born, Kerrville, Texas-raised Ben Reddell has made a name for himself on the LA roots music scene  He has played bass in Leslie and the Badgers, Elijah Ocean's band, on Rod Melacon's Southern Gothic album, and most recently with GospelbeacH. Reddell has also fronted the Ben Reddell Band for many years, playing gigs about town and releasing an EP in 2012, The Big Dang Deal. 
He is also a community man.  If you've ever visited the LA roots music scene, he's the tall mustachioed man with the long dark hair and a cowboy hat and he's either walking around shaking hands, or manning the boards for the stage, where it's needed.  A regular friendly fixture and 'Mayor' of the scene, he prides himself on his role of promoter for the indie-roots music show, The Grand Ole Echo and as General Manager of Bedrock L.A. Studios. 
The band initially went into the studio in December of 2019 to begin recording ¡LA Baby! Of course, we all know what happened after that, and the rest of the record had to be finished remotely.  Not the most ideal, but Reddell wanted to get it done. The pandemic also led to the hiatus of Reddell's roles as musical promoter and studio manager, but it did have an upside.  "In the absence of my responsibilities, I wanted to focus on putting out my art that I feel is good," he observes. "Before I didn't have the time or ability to put my work out there." 
Reddell's music reflects the small town Texan in him and merges it with his urban life in Los Angeles. "I think my approach to country music is unique," he describes. "I'm really inspired by all the Texas songwriters that came before me, but I've always had a penchant for rock music. So I think my brand of country is different than others that have melded the two genres." L.A. Record compared his voice to Guy Clark and Townes Van Zandt, calling it "…as weather-beaten and world-weary as any classic Texan troubadour." 
Reddell says that the tunes on ¡LA Baby! come from a celebratory perspective. "We went into the studio in December, and we were all really happy and in a good place.  I went into it after watching 'Once Upon A Time In Hollywood', which was a celebration of LA, as much as you can celebrate our demon angel of a city.  So the movie kind of filled me with a sense of instilling the tunes with a sense of being in LA, and I feel that comes through." 
Longtime friend and musical partner, Elijah Ocean helped Reddell arrange the music on the album, as well as lending his bass skills.  The upbeat, toe tapping, "My Baby" opens the record. "I wrote this in the summer of 2019, I was traveling, playing bass for GospelBeacH, and I was the happiest I've ever been.  It's a love song to my lover, but also to L.A. It's a tribute to easy living and being the highest and happiest one can be." 
"Cocaine" is an edgier song with a country-rock vibe. The story song, "Tumbleweed" slows it down and the sweet sound of the pedal steel juxtaposes with Reddell's raspy baritone voice. "This is one of my oldest songs. I wrote this in my sad Hollywood apartment in 2007. At that time, I was a drunk and a waiter at the Arclight Cinema, but writing this song made me feel like I was more than those things. It's inclusion on this record means a lot to me, it's my banner of L.A." 
The lyrics and melody on "Bar Blues" are reminiscent of a Tom T. Hall or Robert Earl Keen song, while the accordion on "If You Love Her and You Need Her" and "Good Thing" will have you moving in your seat if you're not already on the dance floor. "Good Things' was written when I moved to the neighborhood of Boyle Heights. It's a reflection of what I would hear in the hills as Norteño bands would be playing a party somewhere in the distance.  But it's also inspired by my youth growing up in south Texas. The kind of boozy Jim Morrison-chorus grounds it even more in the LA legacy." 
Reddell plays rhythm guitar on ¡LA Baby! and is backed by a stellar band of musicians from the L.A. roots music scene.  Along with Ocean (who is one of Reddell's favorite country songwriters), he has Travis Popichak on drums who he has been playing with since 2004. Reddell met guitar player Joe Bourdet (Whispering Pines, Jonathan Wilson) over a decade ago and keyboardist Jon Nieman plays in GospelBeacH with him. Added to the mix are Matt Pynn (Billy Ray Cyrus, Jaime Wyatt, Ringo Starr) on pedal steel and Jeremy Long (Sam Outlaw, Jason Hawk Harris) on accordion. 
¡LA Baby! was a long time coming and is a step forward for Reddell.  "My last EP was released 2012 and back then I was trying to find ways to meld country, R&B, and indie rock into something that would work with the east LA indie scene. This record is more about where I am now.  It's unapologetic in its country voice, but it's me now living in LA after 18 years.  This city will eat you whole and spit you out, but if you're lucky, it doesn't. I feel like these tunes are a celebration of not letting the demons of this city get you down." 
"This record is about joy and love and feeling free," he muses. "I think the past year has been beyond hard on all of us.  And this record was started before all of that, when I was extremely happy and free. I think that breathes through these tunes, and I hope it brightens the day of whoever listens to it." 
For more information:  http://www.benreddellband.com/ 
Publicity:  Kim Grant | KG Music Press | Kim@KGMusicPress.com | 626-755-9022