Hilary Scott Kaleidoscope 
Releasing Friday, June 25th 
Kaleidoscope is an exciting and eclectic album that delights the listener with four songs that are the product of a songwriting collaboration project between Hilary Scott (Hilary Renee Helm) and other high-caliber talent; plus the international-award-winning song Hilary wrote for her husband. Kaleidoscope showcases Hilary Scott's distinctive voice (described by Italian producer Euro Ferrari as "absolutely extraordinary in its emotional greatness"), Matthew Wilder's exceptional production talent, and the genius of the songwriters: Hilary Scott, Matthew Wilder, and legends Angela Kaset ("Something In Red") and John Goodwin (co-writer of songs for the movie Crazy Heart). 
JP's Music Blog:  "… beginning with the stellar, laid-back Americana/pop groove of "Just A Shame," as you will easily fall in love with Hilary Scott's warming vocals." 
Ian D. Hall, Liverpool Sound and Vision:  "A set of songs that are pleasing, controlled and adventurous, Hilary Scott has offered another side to the tale of her life, and it is bountiful." 
Stefan Meekers, Keys and Chords:  "With a fresh approach, she introduces us to that eclectic musical landscape. And her sultry voice intonation is the common thread through the songs. Great stuff..!" 
Chris Spector, Midwest Record:  "Scott shows she adapts well to any environment. These tracks could easily fit onto any contemporary, youthful play list." 
The Grateful Web posts:  "The eclectic nature of what she writes, and her willingness to explore diverse genres and not lock herself into one style is what sets Hilary Scott apart. Kaleidoscope is the perfect showcase for these talents." 
Hilary Scott GIGS 
-July 8th Shelton, Washington - Skookum Rotary Music In The Park Series, Kneeland Park free 
-August 18th Pullman, WA - Concerts In The Park - Reaney Park free 
~ 
Tylor & The Train Robbers Non-Typical Find 
Releasing July 9th Produced by Cody Braun of Reckless Kelly 
https://www.tylorandthetrainrobbers.com/ 
Boise, ID based band, Tylor & the Train Robbers are releasing a new album, Non-Typical Find. It's their third release and first project with producer, Cody Braun of Reckless Kelly.  The band is comprised of Tylor Ketchum, his brothers Jason and Tommy Bushman and his father-in-law, Johnny "Shoes" Pisano, so it's a family band that delivers "blood harmonies"as a part of their musical chemistry. 
The eleven song compilation showcases Ketchum's songwriting genius with subject material ranging from current events to harrowing tales of dead bodies discovered.  The band delivers with the tight, dynamic sound they are known for and, on this album, raises the bar by including a few talented friends. 
New Video:  "Staring Down The North" 
First premiered at Americana Highways 
"Tylor & The Train Robbers are Idaho's contingent for independent country roots that garnered national and international appeal for their last album Best of the Worst Kind. Now for the first time they're working with an outside producer, and it's one with Idaho ties himself, Cody Braun of Reckless Kelly."—Saving Country Music 
5 Stars ***** Country Music People! 
"The band is tighter than the lid on a recalcitrant jar of jalapeños: they weave around each other and deliver effortless solos; and predictably the brothers harmonise better than most on the choruses."—Tony Ives, CMP 
"Any quality music fan should dig right in."—Americana Highways 
"Tylor et al deliver some tight rhythms which reflect the intense work they have put in on the road over many years. Roots, country, Americana spliced with wonderful harmonies and this family band exhibit a musical cohesion that is enviable."—Listening Through The Lens 
TTR GIGS: 
TYLOR & THE TRAIN ROBBERS and JEFF CROSBY PLAY THE BRAUN BROTHERS REUNION FESTIVAL!  https://braunbrothersreunion.com/ 
TYLOR & THE TRAIN ROBBERS OPEN FOR RECKLESS KELLY SEVERAL DATES IN THE SOUTH, MIDWEST AND EAST COAST THIS FALL!  https://recklesskelly.com/ 
9/9 Memphis | 9/12 Charlotte, NC | 9/14 Philadelphia | 9/15 Norfolk, CT | 9/16 New York City | 9/17 Alexandria, VA | 9/18 Annapolis, MD | 9/19 Warrendale, PA | 9/21 Berwyn, IL | 9/21 Des Moines, IA | 9/23 St Louis, MO 
~ 
Ben Reddell Band ¡LA Baby! 
Releasing July 9th 
http://www.benreddellband.com/ 
Check out the bonus single "Hey" 
Ben Reddell is the quintessential urban cowboy.  Born and raised in Texas, he now lives in the citified jungle of LA's Echo Park and both of these environments are reflected in his music.  LA Record's Chris Ziegler described the band like this, "If you saw the film Heartworn Highways, and if you laughed and then tried not to cry at all the appropriately hilarious and heartbreaking moments, you're primed for Ben Reddell's band. They'll ready the beer if you've got the tears." 
Ben is also a linchpin of the Los Angeles roots music scene. Along with leading the Ben Reddell Band, he hosts a weekly live show (before the pandemic) called The Grand Ole Echo,  and he is also known for playing bass in Leslie and the Badgers, Elijah Ocean's band, with indie pop band, GospelbeacH AND on Rod Melacon's Southern Gothic album. 
"Texas roots rocker relocated to LA with a drive to create some new cosmic American music.  A hard driving, hard rocking country rocker that isn't afraid to roll up his shirt sleeves, he invites you to put the top down and blast this on the open road.  Right in the groove throughout"—Midwest Record 
"Let me introduce you to the Ben Reddell Band and the album that should be top and tailing your soundtrack this summer, the music of your future nostalgia."—Whiskey Preachin' 
"The lyrics and melody on "Bar Blues" are reminiscent of a Tom T. Hall or Robert Earl Keen song, while the accordion on "If You Love Her and You Need Her" and "Good Thing" will make you move in your chair if you're not already on the dance floor."—Rootsville 
~ 
Jon Byrd Me and Paul Releasing July 16th 
Jon Byrd and Paul Niehaus started performing around Nashville three years ago.  Every Tuesday at Dee's Country Cocktail Lounge in Madison on the east side (Now every Wednesday in June), lots of Thursdays at Springwater on the west side, and countless other places in-between. A natural result of all the gigs played is Me and Paul, a 5-song EP of two originals and three cover songs. "Me and Paul is dedicated to and a reflection of the people that came to see me and Paul over the years in little watering holes and honky tonks here in Music City," Byrd notes. "They are small, but mighty as Billy Block used to say.  It's also dedicated to venues that let us take over their 'happy hour' to play the saddest, darkest, most pitiful and tragic songs every penned." As he quips on one of the promos for a show, "All to make you feel so much better--Even "lucky," by comparison." 
Read the feature in the East Nashvillian 
Hear the single, "Junior and Llyod" at Americana Highways 
Jon Byrd and Paul Niehaus 
Me and Paul are back at Dee's! All of June $5 cover 
Dee's Country Cocktail Lounge 102 E Palestine Ave, Madison 
Stay tuned for features in The Nashville Scene and The Bluegrass Situation! 
~
Coming Soon!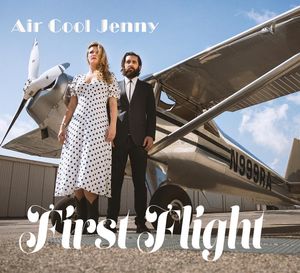 Air Cool Jenny First Flight 
https://www.aircooljenny.com/ 
Air-Cool Jenny is composed of Helen Rose and Kramer Sanguinetti. It was the trick of a warm late summer's eve in New York City that Kramer and Helen first played music together well into the wee hours of the morning. They lived in the great city of New Orleans, and found joy frolicking with the creative spirits of the swamp. Presently, they reside on Art St. in an odd rural area outside of Los Angeles. 
Helen's dynamic and powerful voice mixed with Kramer's golden-toned tenor creates an incomparable blend conveying heartfelt emotions to philosophical musings. Their harmonies reflect their shared experience -- finding truth in song as young human beings. As adults they share the universal language of music deeply. Inspired by Appalachian folk music, blues, country, jazz and funk, Air-Cool Jenny has an extraordinary sound of its own. Songs composed by this duo explore the wonders of the world through deep reflection and poetry born from real life events. Their latest EP,  First Flight which was recorded in Breaux Bridge, Louisiana with members of the Lost Bayou Ramblers, will be released September 10th, 2021. 
~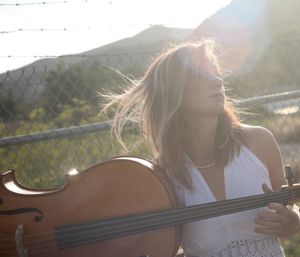 Laura Mihalka 
Feels Electric September 2021 
https://lauramihalka.com/ 
Laura Mihalka is involved with The Channel Islands Chamber Orchestra and has played cello with:  Kenny Loggins, Alex Ebert (Edward Sharp and the Magnetic Zeros), Todd Hannigan, Jennifer Terran, Angela Shelton, Delaney Gibson, Gina Villalobos and more! Grammy-winning producer, Jesse Siebenberg worked with her on Feels Electric and Aaron Embry (Elliott Smith) and Dave Levita (Lana Del Rey) play on the album. 
~ 
Newly Released: 
New single "The New Normal" from Christina LaRocca- Check it out on Indie Voice Blog 
New single from Jeff Crosby, "Runnin Free"- Check it out at The Boot! 
Toler Gibson The Days Before May 28th 
https://www.tolergibson.com/ 
Check out their new video, "Harlingen" at Roughstock! 
"'Dead End Lady' has that glorious cosmic Americana sound that we love so much, where the song has one foot in the dust and soil and the other heading skyward on its weeping pedal steel, weary melodies and that great chord change in the chorus. File next to Flying Burrito Brothers, America and a dreamier version of The Band." -Post to Wire 
The Contraptionists Working Man's Dread May 28th 
https://thecontraptionists.com/ 
Song Premiere "Working Man's Dread" at Vents Magazine 
"Memories of such injuries would be gently erased in "River Lethe," which dips its toes in a whirlpool of '60s pop and psychedelic-rock and references a river in Greek mythology that causes amnesia. Forgetting the intelligently crafted narratives, the strong hooks caught up in an inventive mix of rural and industrial aesthetics and the currents of tight, spirited musicianship of Working Man's Dread won't be so easy."—Elmore Magazine 
Ashleigh Flynn & The Riveters Live From The Blue Moon May18th 
https://www.ashleighflynnandtheriveters.com/ 
"Eight of the twelve tracks breathe live, improvisational energy into already high-octane numbers from the band's inaugural 2018 studio release…Two others dig further back into front-woman Flynn's solo discography, reimagining those songs in an electrified context. Rounding out the dozen are two covers, including an exuberant, set-closing rendition of Tom Petty & The Heartbreakers' "American Girl" that left two KRVM radio hosts momentarily speechless, then laughingly wondering what in the world had just transpired over the course of the previous 45 minutes."— IM-Music Magazine 
Soo Line Loons Eponymous May 14th 
https://www.soolineloonsmusic.com/ 
The Ties That Bind Us Interview 
"It`s obvious that the band are seasoned musicians who are able to deliver a wide variety of beautifully written numbers which range from murder ballads, folk tunes, through blues, rock, country to Americana. If i`m ever lucky enough to visit the Land of 10,000 lakes, I'll definitely be jumping on the Soo Line to catch these Loons."— Maximum Volume Music 
Desert Hollow Thirsty May 14th 
https://www.deserthollowmusic.com/ 
PopMatters Interview & Premiere 
View the video, "Thirsty" at Glide Magazine 
"I love it when new music drops into my inbox. I love it even more when it is as wonderful as this EP Thirsty from Desert Hollow. Music that is refreshing, melodic, full of hooks and marvellous harmonies."— Hobo On The Tracks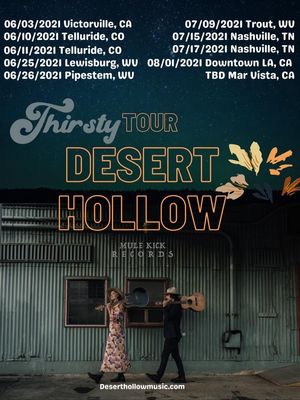 Ted Russell Kamp May 7th 
https://tedrussellkamp.com/ 
Interview with TrainWreck'd Society 
Video "You Can Go To Hell, I'm Going to Texas" Video Premiere and Interview at Ditty TV 
"A new release from Ted Russell Kamp always me happy. I've definitely come to rely on him to provide some well-crafted, meaningful and engaging songs, songs that speak to us on that human level that is both intimate and universal."—Michael Doherty's Music Log 
"Once again, this talented fellow hits one out of the ballpark. In a world full of pretenders and wannabes, Kamp comes across like a real fellow making real music. honest and endearing … songs have all the freshness and spontaneity of someone who has just discovered the joys of making music for all the right reasons." – Baby Sue at lmnop.com 
"Kamp, whose last solo album had a proverbial cast of thousands, adapted well to the challenge of making a pandemic-confined album, adding mandolin, dobro and banjo to some songs, and Wurlitzer, Hammond and accordion to others. It's also the first time he played his old dulcimer on a record. No doubt these songs will sound different with a live, full band, but perhaps this setting reveals Kamp's broad swath of talent more than anything he has previously done….and that's saying something."—Jim Hynes, Elmore Magazine 
West of Texas April 16th 
https://www.westoftexas.com/ 
Jerry Zinn will be on the cover of Issue #3 of Honky Tonk Times Magazine! You can purchase here: https://www.thehonkytonktimes.com/ Or if you're in Nashville at the Ernest Tubb Record Shop 
"a terrific collection of old school country."—Fatea 
"melodic hardcore country music from a connoisseur of the genre". -Rocking Magpie 
"pure, unadulterated twang."—Both Kinds of Music 
"Hot dang this album is killer!-Under the X in Texas 
"one of the greatest honky tonk albums."-Cousin Early's Late Night Country Show 
New Earth Farmers Into The Great Unknown April 16th 
https://newearthfarmers.net/ 
Video Premiere "Everything Was Beautiful, Goodbye" at 
Americana Highways 
Listen to Cori Kidney's Jam Session on BTR 
"One of their freshest jams!" - Cori Kidney