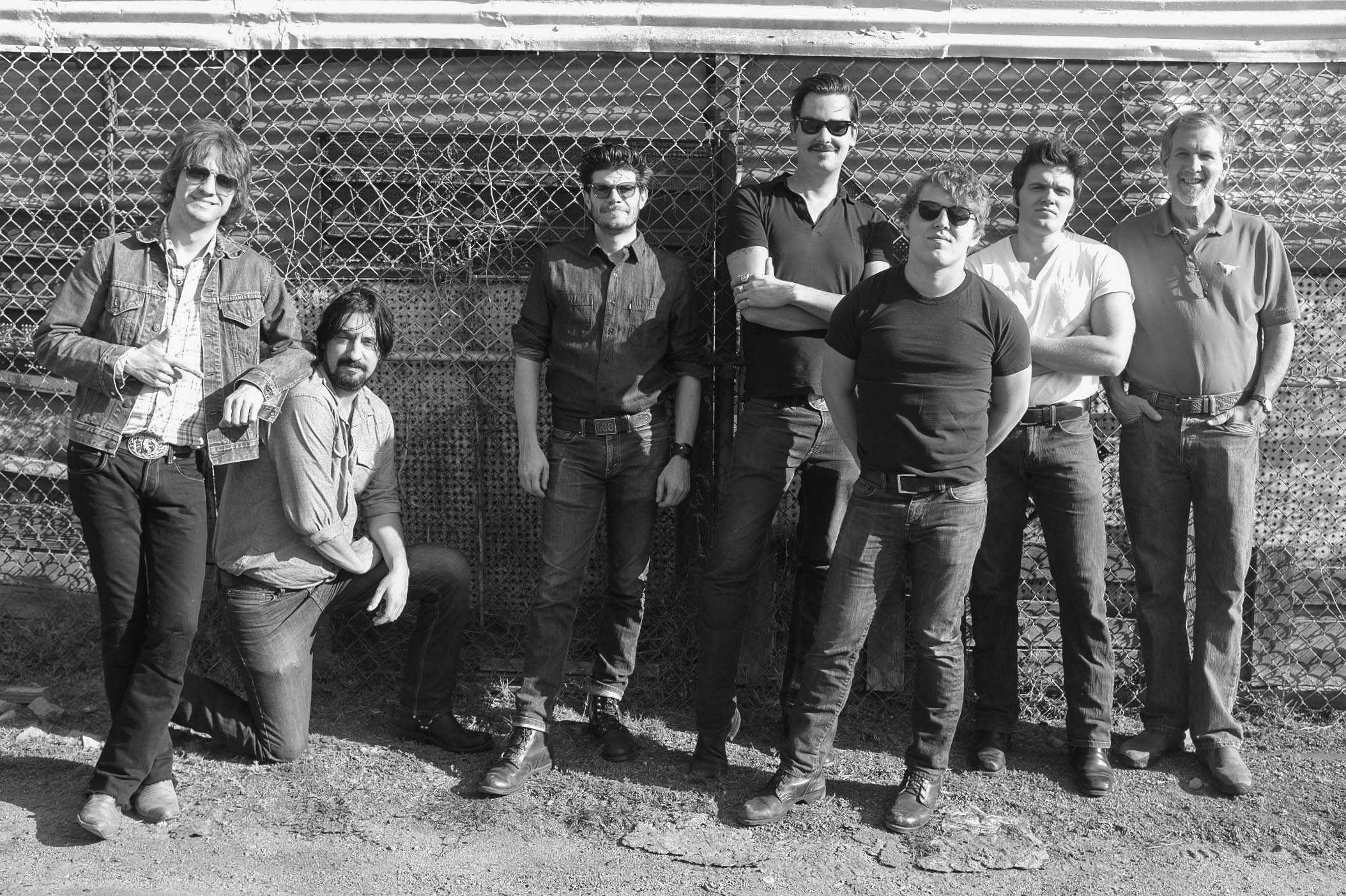 From L to R:  Brian Whelan, Robert Black (The Far West), Lee Briante (The Far West), Ben Reddell, Matt Farber, Rod Melancon, Peter Bowman

 REVIVAL OF MEDINA RIVER RECORDS SHINES THE SPOTLIGHT ON INDEPENDENT AMERICANA TALENT
 
The formerly Texas -based label finds new headquarters in Los Angeles
 And announces the signing of 2 new artists
Los Angeles, CA November 22, 2013
—The newly reminted Medina River Records of San Antonio, Texas will be branching out with headquarters in Los Angeles and has announced the signing of its first two artists, Rod Melancon and the band, The Far West. 
Medina River Records (MRR) was founded in 2006 by Peter Bowman specifically to oversee the release of the critically acclaimed album,
Cold Beer and Hot Tamales
from The McKay Brothers.   After a seven-year hiatus, the label will be revived with the intent of developing independent artists and restoring Los Angeles as a major source of great independent country and Americana music. 
Bowman has partnered with fellow Texan, Steve Cicero of Americana Music Times and two Angelenos heavily involved in the Americana music scene, Ben Reddell and Matt Farber.  Cicero, co-founder of web design company, Maxcreative is also known for his concert photography and videography.  Bowman worked with Circeo developing music videos for bands in Texas and they collaborated to create a video record of San Antonio's one and only Indie Fest in 2007.  
Reddell and Farber co-curate a weekly Americana music series in Los Angeles called, The Grand Ole Echo.  Founded by Kim Grant and Liz Garo in 2005, Reddell and Farber were appointed to oversee the talent booking in 2013.  In addition to these duties, Reddell also manages the well respected, Bedrock LA Studios where music, culture and business collide and where MRR will house the label. 
Medina River Records will be presenting artists that are broadening their musical identities outside the limits of mainstream country music.  They will release two albums in 2014,
Any Day Now
from The Far West and Rod Melancon's
Parish Lines
. 
The Far West is a 5 piece roots-rock band that is based out of Los Angeles.  Their sound has been described as an "authentically Americana sound" and "technically pure, slightly jaded, no-nonsense and honest with stellar storytelling".  Their 2
nd
record, Any
Day Now
will be released on February 25
th
, 2014 and was produced by Colin McLean.  The band members are:  Lee Briante, Robert Black, James Williams, Travis Popichak and Aaron Bakker.  http://www.thefarwestband.com/ 
Rod Melancon-a native of Southern Louisiana-is a singer-songwriter in the tradition of Johnny Cash, Merle Haggard and Bruce Springsteen.  As scribe Terry Roland wrote on the No Depression site, "Today he may be marked Americana,' but make no mistake; he is country to the bone." 
Parish Lines
will be released on March 4, 2014 and was produced by Brian Whelan (multi-instrumentalist and vocalist for Dwight Yoakam).  http://www.rodmelancon.com/ 
Los Angeles has played a significant role in the history of country music, which is often ignored.  But the city has never stopped producing first-rate, unsurpassed country and Americana music.  Medina River Records plans to unearth the myriad of gems and bring these independent talents to the forefront of the Americana music faction.  
For more information:
www.MedinaRiverRecords.com/site
And Social:
www.facebook.com/MedinaRiverRecords
###