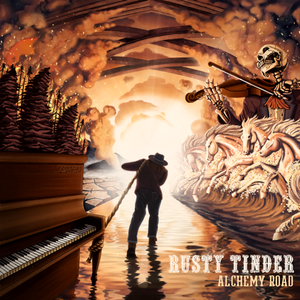 RUSTY TINDER RELEASES A SECOND SOLO ALBUM, ALCHEMY ROAD
The Pianist Finds His Footing With This Eclectic Americana Song Cycle
(July 29, 2022)
Rusty Tinder-lead vocals, piano, harmonium | Mike Cionni-acoustic guitar, background vocals | Blake English-electric guitar, banjo | Paul Allen-drums | Gregg Reeves-bass | Julie Push-fiddle, violin, viola, vocals | Kahlil Sabbaugh-percussionist | John Fricke-trumpet | Chris Tedesco-trumpet, flugal, horn and trombone | David Silverman-Tuba
Recorded by Will Golden at Sir Tiger Studios | Mixed by Blake English | Mastering Every Goknar
Los Angeles, CA — Pianist Rusty Tinder's passion for country music took a bit of a winding road starting in Pullman, WA—piano at six, Choir at fourteen, a short stint with opera in college (music degree from Washington State), and several midwest-based jazz bands—before fate intervened.
Moving back to the West Coast, circumstances took Tinder on tour with his friend Doug Cameron's alt-country band, Stranger Neighbor for six months. He realized this sound's melodic nature was perfect to play on the piano and also fit the way he was feeling. Once back in Los Angeles, Tinder played piano for the country rock outfit, Von Cotton for eight years, playing originals and covering the likes of Merle Haggard, Willie Nelson and George Straight, which officially hooked him on country music.
Tinder counts becoming a dad as one of the milestones in his life and also a motivation for making his own music. "I've thought, 'What kind of legacy do I want to leave for me and my son? What do I want to put into this world, and what is it going to take?'" So in  2019 he stepped into the spotlight for the first time releasing, Dear To You, a deeply personal album inspired from true events of his life and what Elmore Magazine called "…good, honest medicine for the heart and soul."
Now, in 2022, he's co-producing with Mike Cionni and Blake English to release Alchemy Road, an 12-song Americana record with roots in folk, country and blues. "My last album was done in a rush.  While I'm proud of that album and what we accomplished, there is a noticeable difference between Dear To You and Alchemy Road because of the time we spent in pre-production figuring out how each song could be its best. Going into the recording process, we said we wouldn't finish the record until each song found its best sound and vibe.  I think we accomplished that."
"Infinite Grace" is a lead up instrumental piece to "Let Me Be Found" and is influenced by Tinder's meditation and affinity for East Indian music. He learned to play harmonium for these songs. "It's such an amazing instrument that has a bellow and can be a stream of sound," he explained.  "It was fun learning this instrument and recording it.  It brought me back to a meditative state while tracking."
Tinder is known for his voice, his approach to the keyboard, and his songwriting.  He writes from personal experience and is able to bring spiritual elements to his music without being preachy.  Prime examples are "Remember Why You're Here", a song questioning whether he is on track in life and remembering what he came on earth to do. The title track, "Alchemy Road" captures the nature of life's twists and turns and looks for a better tomorrow.
"Copper Penny Sun" is social commentary on the political and sociological tension in America and a warning to learn from our past. It was influenced by the smoke from California wild fires blocking out the sun and resembling what he thought was a copper penny. The producers brought a lot of orchestral elements to the song creating a choir out of Tinder and Julie Pusch's voices.  They also brought in several horns including tuba.  "We wanted to make it big," said Tinder.  "Along with additional percussion, it gave a dramatic sound that we felt was needed to convey the importance of the message."
The album was recorded in July of last year during quarantine.  Tinder had made demos of most of the songs which he was able to send to all of the musicians to learn at home before coming in to record.  "People at that time, pre-vaccine, were very wary to be in the same room with others that weren't family or a very close friend in your 'bubble'.  Being that I work in the film industry, I took the playbook from their Covid protocols and got everyone tested and we were all socially distanced while in the studio.  This required a lot of trust in me and each other.  Otherwise, this album wouldn't have happened and frankly, it wouldn't have been so special if it were under normal circumstances."
Tinder's co-produer Mike Cionni was also the demo engineer along with playing acoustic guitar and key background vocalist. The two took the time to dig into the arrangements and Tinder also focused on the quality of the lyrics. "We've been developing this relationship for the last 4 years and we went into recording Alchemy Road with an open mind, but also with a vision on the sound we wanted to create.  It has a modern folk-rock approach with a cohesive Americana eclecticism."
"I spent so much time playing for others that I wasn't nurturing my own songs and voice," Tinder laments. "Once I decided to go for it, I was able to hone my sound. Alchemy Road is that album.  It's the project where I really found my voice. I have been playing music for over 30 years and I finally discovered what I consider home in the music that I write, produce and perform."
Alchemy Road releases Friday, July 29th, 2022.
###
For more information: https://www.rustytinder.com/
Press Contact:  Kim Grant | KG Music Press | kim@kgmusicpress.com | 626-755-9022