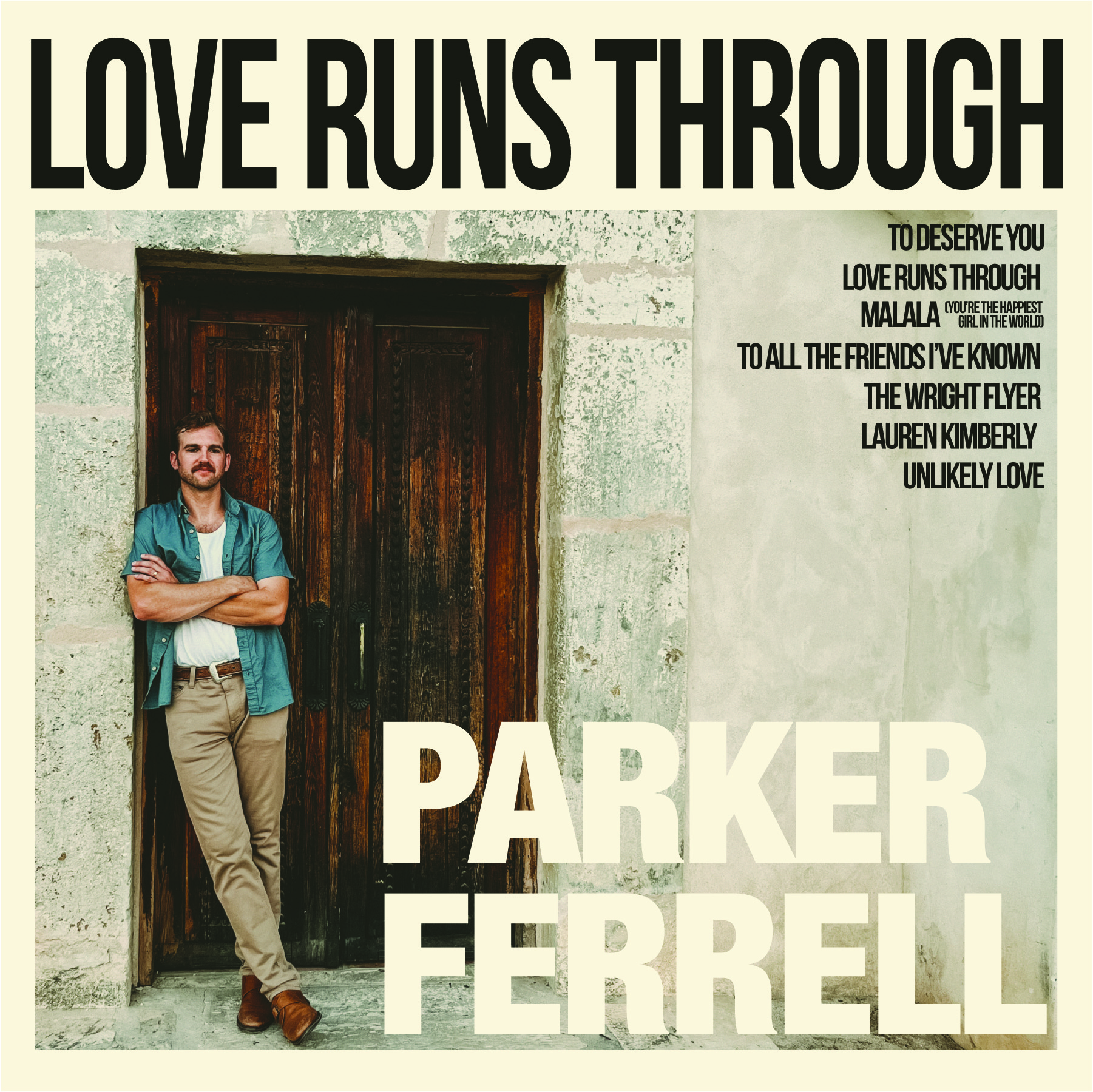 TULSA OKLAHOMA'S PARKER FERRELL TO RELEASE LOVE RUNS THROUGH (JUNE 16, 2023) 
The Album, Co-Produced By Ferrell And Jared Tyler, Reflects The Spiritual Nature Of Daily Life With A Stellar Tulsa-Centric Band 
Tulsa, OK April 16, 2023—Though only 36 years of age, American singer-songwriter, Parker Ferrell has been in the music business for over 20 years.  Raised in a musical family, he began playing guitar at the age of 12.  In 2006 his high school band was voted Oklahoma's best band by Tulsa World and went on to record an album at The Church Studio with Tulsa's legendary, Steve Ripley (Bob Dylan, Leon Russell, J.J. Cale). Ripley became a mentor to Ferrell and helped to launch him into a life of music.  
Over the course of his musical career Ferrell has worked as a session guitarist, writer, composer, singer, band leader, and has added Luthier to his list of accomplishments.  He has worked and played with notable musicians such as The Wailers, Tommy Emmanuel, Ben Rector, Peter Rowan, Zach Winters and many more. 
 In 2022 he began working on his first solo album, Love Runs Through, co-produced with noted Tulsa musician, Jared Tyler (Emmylou Harris, Wilco, Malcolm Holcombe). There are influences of rock, jazz and world music on the album, which is primarily singer-songwriter-oriented.  Ferrell received a grant from the Tulsa Office of Film, Music, Art and Culture for the completion of the project, due for release on June 16th, 2023. 
Tyler also engineered and mixed the album, while Chris Wiley at Buffalo Hide Mastering did the mastering. They recorded in Tyler's home studio in Tulsa, and although Steve Ripley passed away in 2019, Ripley's wife Charlene graciously invited Ferrell and Jared Tyler to record out at the Ripley farm in Pawnee. "It was meaningful because that farm holds some of my fondest and last memories of Steve," he said. Ferrell, Tyler, Zac Hardin and Michael Frost spent three nights out at the farm while Brianna Wright, Edison Hill and Gary Hale came out to cut their parts.
"It was ideal because we were able to focus completely on the music," Ferrell said. "It was a wonderful time.  At night we made bon fires and ate together and when we woke in the morning we simply walked downstairs to the studio.  The entire time we were there, I didn't know where my shoes were.  That's how focused I was on recording."
The songs on Love Runs Through were written over the course of the last decade. "I didn't intentionally have a theme, but looking back there is a clear theme," he notes.  "I would say that is the mystical in the mundane. The spiritual nature of normal, boring, daily life." 
"Love Runs Through", the title track kicks off with the sentence "Hung a swing up in that tree."  "At the time I was looking at the swing that my wife and I had hung in a large pecan tree in the backyard," he explained. " We hung it there when we brought our second child, Samuel, home from the hospital after he was born.  It became a love song when I realized that all the trappings of family life-the house, the kid's toys, the photos, the swing-they were all the byproduct of the love that my wife and I share.  I began to see love as a creative force that flows through all of life and binds it together." 
There is definitely a sense of love woven throughout the album, with, "To Deserve You" written as an ode to his kids, "Lauren Kimberly" and "Unlikely Love", a tribute to his wife, and "To All The Friends I've Known" an paean to the many friends he has met along the way.
A couple of historical tributes have also been included, including "The Wright Flyer," a biographical song about the Wright Brothers with themes that can be applied to anyone's life, according to Ferrell. "Courage, risk taking, living life to the fullest.  I am really happy with this song because the instrumentals at the end with the violins, the harp and guitar, all together give the sensation of flying.  "Malala (The Happiest Girl in the World)" was based on the book, 'I Am Malala', the memoir of Malala Yousafzai who was shot by the Taliban just for educating herself. "It's such a moving story," Ferrell observed. "I hope that we did it justice." 
In his role as a songwriter, Ferrell observes and studies human nature. "When I was young I longed for perspective," he explains. "I felt like my single existence was such a narrow lens through which to perceive the world. So I left home and hitchhiked all over the country.  I have traveled all over the world.  I have slept on the street with the homeless.  I have had money and have had none at all.  I gained the perspective that I sought out as a young person. These songs sum up, almost like essays, what I believe now to be important in life; love, compassion, courage, being present in the moment. I try to write songs that are true to myself, not in a narcissistic way, but believing that people are all fundamentally the same and if my songs are honest with myself then they will also be relevant to the listener." 
With Love Runs Through, Ferrell has opened the door on some Universal Truths, writing songs that will speak to their listener's hearts.  
###