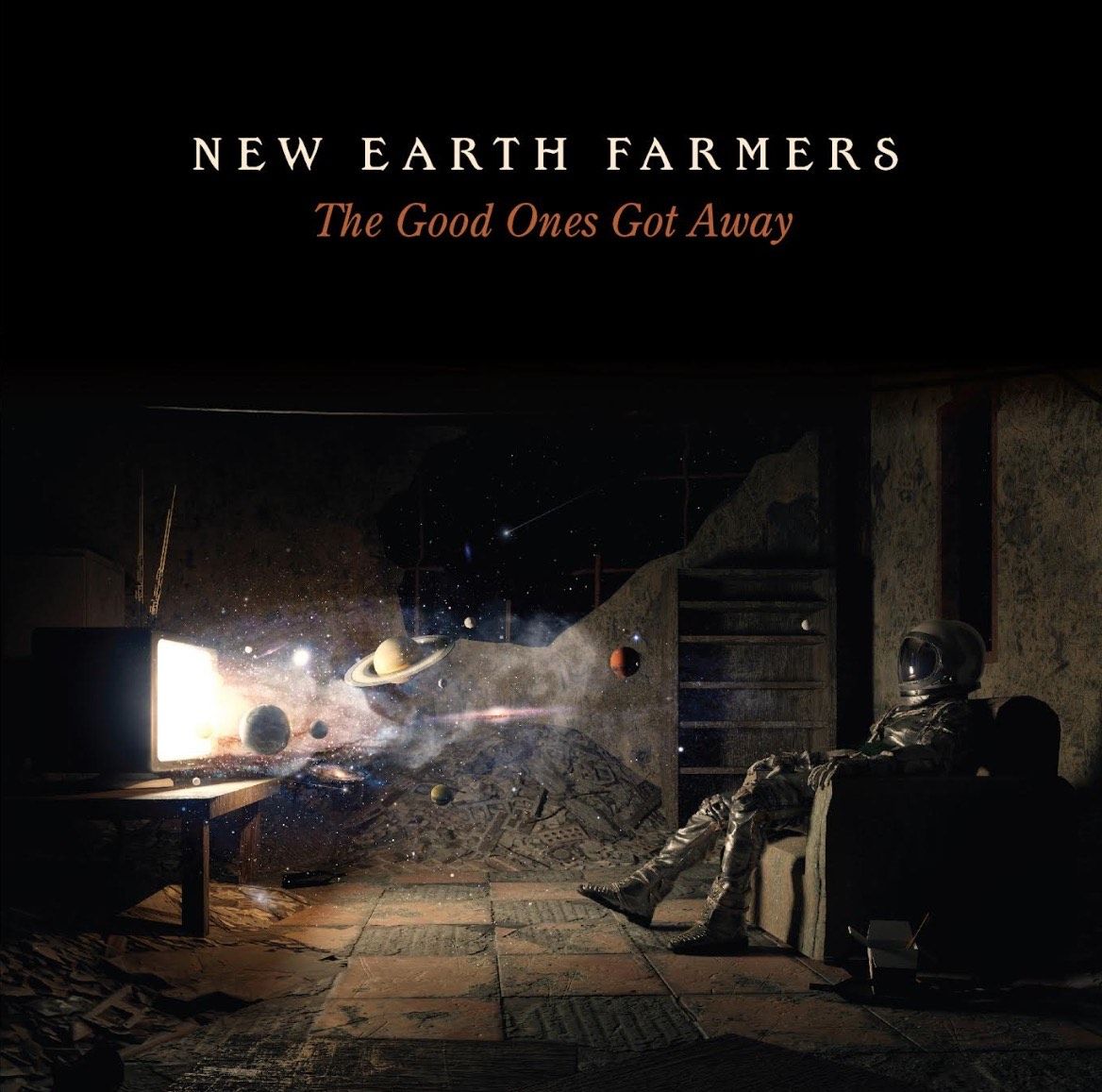 NEW EARTH FARMERS TO RELEASE THE GOOD ONES GOT AWAY
A Border-Free Band Of Earthlings Born Of Americana and Pop Influences, Transitioning Towards Full Eclecticism Of The Soul (ie…This Album Rocks!) March 3rd, 2023
San Francisco, CA November 2022—"It's all one planet, one earth, no imaginary borders," responds Paul Knowles when asked why his band changed their name from New American Farmers to New Earth Farmers.  "Also, I think we wanted a less nationalist sounding name, 'American' is a bit overused and a bit jingoistic in nature. We wanted something that's more inclusive that had nothing to do with that frame of mind."
Lyrics, vocals, guitar, and keyboards are all contributed by Knowles, one half of the duo that fronts the band.  His partner in life and music is Nicole Storto, who also contributes lyrics, vocals and guitar. They're joined by a solid backing band that includes Nigel Twist (The Alarm) on drums, James DePrato (Chuck Prophet) on guitars, lead guitars, and lap steel, and Kevin T. White (Chuck Prophet) on bass guitar.  The Good Ones Got Away is their first full record as the New Earth Farmers and the band is joined by guest artists; Alisa Rose on violin, viola, and bass violin, Melissa Phillips Deprato who sings backing vocals on "The Garden", and Dave Zirbel who plays 2nd lead guitar on "The Garden".
As New Earth Farmers, the band has previously released an EP in 2020, Into The Great Unknown. As New American Farmers, they released one single in 2011, "DNA", an EP in 2011 titled, Rotation Part I, an LP in 2013, Brand New Day and in 2014, The Farmacology Sessions. From 2002-2010, Knowles and Storto released 4 studio albums as Mars Arizona working with several guest musicians such as; Kenny Aronoff (John Mellencamp), David Grisman, Al Perkins, and Billy Block.
During the pandemic, Knowles and Storto were offered some studio time up in Napa Valley, CA at Peter Craft's studio, Boxer Lodge. "Lockdown was over and we were tired of hanging around the house and thought it would be a good time to socialize with these great musicians that we have the good fortune to work with," said Knowles. "I had lots of ideas I kept on my iPhone, where I would sit around and play guitar and record snippets of things. From the snippets, I made home demos and sent them around to the musicians." The band spent a weekend at Craft's place in Napa, spending 6 hours a day tracking live. "Peter and his wife would then put a meal together and we would all sit down for several hours eating, socializing, telling stories and listening to Nigel's stories about his days with The Alarm. Always a good time.  It felt communal and we felt blessed to have the experience."
The Good Ones Got Away is self-produced on the band's own OneLipLuca label, with Craft helping out with production while at Boxer Lodge. Two of the songs, "Oh, Mary" and "Temporary Road" were both written after the Napa sessions and were tracked back in Berkeley, CA. Vocal tracking and some guitar overdubs were finished at their home studio, Cosmic Garage.
The record takes its name from the song, "The Universe is Hiding".  Knowles explains, "It's about the longing for a connection to something other than human beings on this planet. It observes how flawed we are at times and the thought behind that was maybe the super intelligent and super enlightened forms of life that might be out there in the universe are simply hiding from us, because they know what we're up to."   
As promised, the music on the album leans into rock and roll more than previous collections. "My Dog God" starts quietly, with strummed acoustic guitar chords and Knowles' vocal describing some people who use religion as an excuse for their authoritarian behavior. Storto joins on the uplifting chorus, as DePrato drops a guitar solo that's equal parts metal and blues. The band takes off on "The Garden," a dystopian vision recorded live at the Great American Music Hall in San Francisco. Originally on The Farmacology Sessions, this version features shredding electric guitar solos from DePrato and guest artist Dave Zirbel.
Knowles pays tribute to his self-taught piano playing grandfather on "Judgement Day," an upbeat rocker that equates salvation with music making. Storto and Knowles belt out the lyric, with Twist's backbeat and DePrato's howling guitars lifting the tune to the heavens. The band cut World Party's "Waiting Such A Long, Long Time" in 2015 after Nigel introduced the duo to his long-time friend, and writer of the song, Karl Wallinger. It's a flat-out rocker with White's rumbling bass, DePrato's distorted guitar and the duo's rowdy vocals giving the track an anthemic quality.
"I think our writing and our vocal style have become more focused as we move away from the 'Americana' pigeon hole," Knowles says. "We're more honest about who we are, more aware of our age and more aware of our culture and how divided it's become. Hopefully, we're erasing some imaginary borders with our thinking and our music."
Known for lyrics that help conjure an atmosphere, their vocal sound is also unique in that the duo will switch the lead/harmony lines multiple times during a song. "We can double track the vocals in our lives shows with both of us singing the melody," Knowles mentions. "It's hard to tell who is doing what sometimes."
The band is anxious to take the new songs to the stage, but still feel it's a gamble even now to play live with covid still out there. Their record release show for San Francisco Bay Area is at Make Out Room, Saturday March 25th with Tom Heyman and Whateverglades. Other live dates are TBA. "We just want the listeners to get the songs, sing along and feel that they've been transported out of reality or out of their troubles.  We have a lot of empathy for those that are going through loss or rough times.  We are here for you if you want to get away for a bit."
The Good Ones Got Away releases on Friday, March 3rd, 2023.
###
For more information:  https://newearthfarmers.net/
Press Contact:  Kim Grant | KG Music Press | kim@kgmusicpress.com | t. 626-755-9022