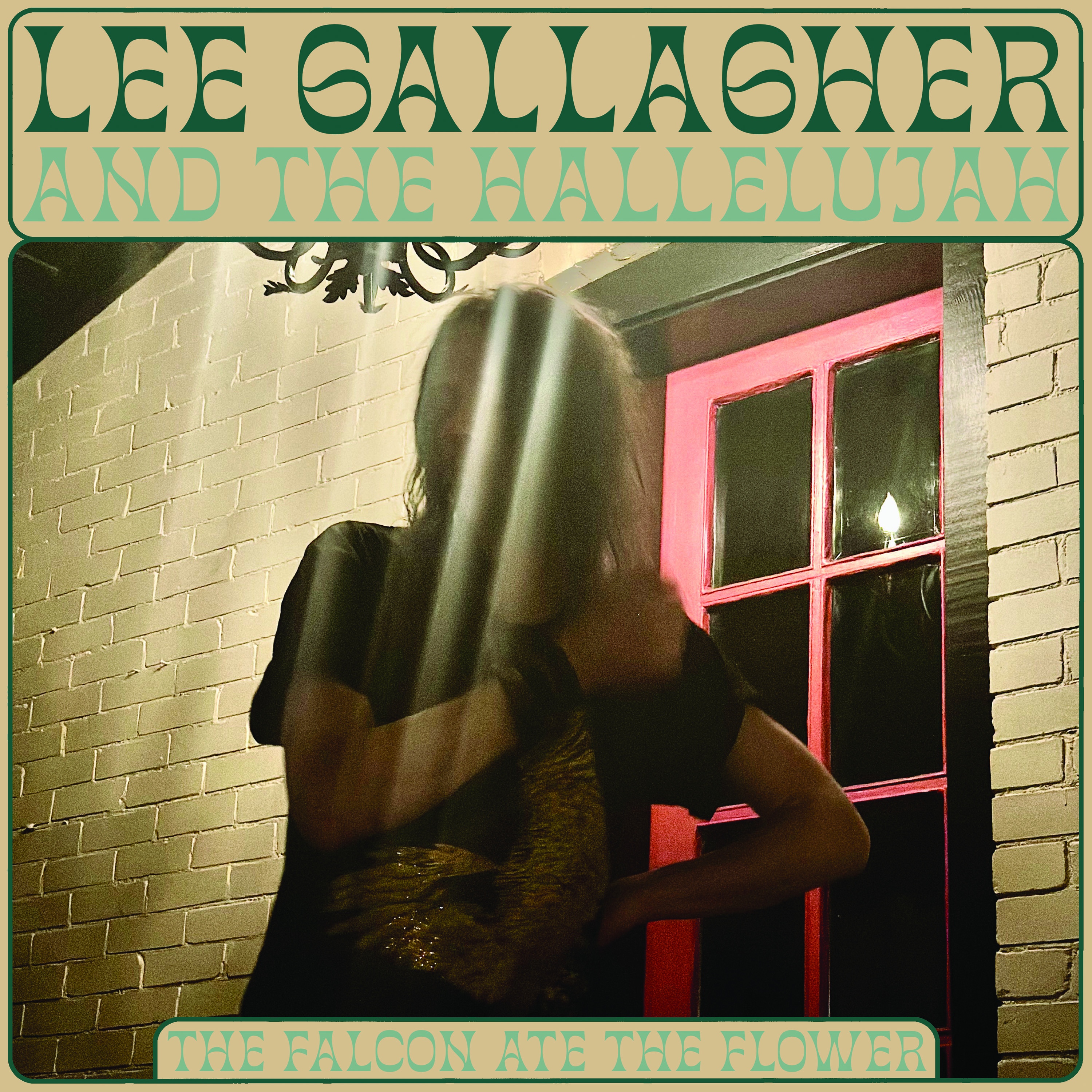 LEE GALLAGHER AND THE HALLELUJAH RETURN WITH THE FALCON ATE THE FLOWER 
(November 3rd, 2023)
With His Signature Unique Voice, The Singer-Songwriter Fronts a Straight-Up Rock 'N' Roll Band 
Los Angeles, CA August, 2023— Lee Gallagher possesses a truly distinctive voice, often likened to a blend of various legendary artists.  It has been characterized as reminiscent of Gary Stewart, albeit without the twang, akin to Robert Plant but without the accent, possessing a broader range than Gram Parsons, and Small Faces era Rod Stewart if he said "F*ck it" and gave himself over to belting blues rock (Americana Highways). He brings that voice to his third release, The Falcon Ate The Flower.  "I think this album is an evolution and different from anything that I've ever done," Gallagher observes. "The improvisation, the shades of dark and light, the feel." 
Gallagher, originally hailing from the Midwest, eventually found himself in the vibrant city of San Francisco, where a rich tapestry of soulful melodies, psychedelic rock, and indie folk rock characterized the music scene both then and now. It was there that he formed the band the Hallelujah which rose to the top of San Francisco music scene.  The eponymous debut record garnered praise from Relix, Shindig!, and Classic Rock magazines.  
For his sophomore effort, titled LA Yesterday, Gallagher ventured to Los Angeles for its recording, collaborating with two original Hallelujah members, Kirby Hammel and Jimmy Dewald. Jason Soda (Everest, GospelbeacH) of Palomino Sound studios produced and engineered and brought in Los Angeles drummer Will Scott (Wolfmother, Mooney Suzuki) to round it out.  While presently residing in Nashville—where he and his wife relocated during the pandemic to be closer to family—Gallagher wanted to take advantage of the positive experience he had with Soda at Palomino Sound and record his new album, The Falcon Ate The Flower.
Once again, Gallagher has teamed up with Soda, who returns on production, engineering, and lead guitar.  Drummer Will Scott also returns and the rest of the Hallelujah was formed by Los Angeles musicians  Steve Mertens (Moldy Peaches) on bass, Jonny Niemann (GospelbeacH, Old Californio) on keys, and the celebrated Scarlet Rivera (Bob Dylan) on violin.  Aside from a little harmonica, this is the first record Gallagher has made where the only instrument he played was the acoustic guitar. "It created space within the songs, added a percussive texture, and allowed all of us to be able to play together with minimal microphone bleed.  Perhaps the best part of recording this way is that it allowed Jason Soda to be in the room with the other instruments and record all of his guitar parts live." 
Gallagher has collaborated with "freak folk" Queen, Victoria Williams, recorded a single on Jerry Garcia's old tape machine which was mastered by the legendary Betty Cantor-Jackson;, and opened a sold out show for the late great Leon Russell just months before he passed away.  But it was the arrival of Scarlet Rivera in the studio one day  that blew Gallagher's mind.  "I had to put tequila in my coffee to calm down," he confesses.  
"Jason had sent her some of my songs and she agreed to come and play on some stuff.  The crazy thing was Martin Scorsese had just made a movie about the Rolling Thunder Revue and I had the opportunity to go to a special screening in NYC.  So this whole mid-70s Dylan period was kind of having a renaissance and was really fresh in my mind.  And there she was, thick, long red hair, violin in hand, and countless stories."    
The musicians started working on Falcon in the fall of 2020.  They didn't rehearse or exchange ideas via email before going in.  "I just brought in my notebook of songs," said Gallagher.  "I think we attempted to run through some stuff before recording but quickly decided that we needed to mic up the amps and record everything immediately.  The decision was made that I would be behind the glass in the isolation booth with a vocal mic and an acoustic guitar with a direct line of sight with Will on the drums and the rest of the band in the big room together.  That's pretty much how we cut the whole album aside from the tracks without drums." 
The reverential song "Planes" became the natural opener for the album and marked a significant change from Gallagher's last record, L.A. Yesterday.  "There's a sense of dread and paranoia—hear the planes circle in the sky—and reflections on living too fast—been buzzing too long."  The band is firing on all cylinders with "Something Better," as Gallaghers voice sails over Soda's galvanic guitar and Niemann's soulful Hammond sound. 
The bluesy rocking "Half Lit (The Future's Ours)" was written at the beginning of the pandemic. "Lyrically, it's quite literal," Gallagher states. "There was a giant Coca-Cola sign in San Francisco that was only half lit and there were only a few cars on the 101 freeway with wild fire smoke enveloping the city—very apocalyptic." 
"Every Little Sound" was recorded completely live including the lead vocal, quirks and all.  "The vibe was so right we kept the original scratch vocals plus the band was jamming so hard at the end you can hear Jonny's knee hitting the reverb tank on the Hammond organ."  "Can Anyone See Me?" had an alternate title, "Song for the Artist".  It's a contemplation on a life of creativity and perseverance.  Rivera has some epic violin trade offs with the vocals at the end propelling the song upwards. 
"Remember When" is the final song on The Falcon Ate The Flower.  "Throughout the pandemic, Jason Soda and I would be by ourselves in the studio and I would lay some stuff down on acoustic guitar and then we would mess around with where we could take the song.  Some would turn out too heavy and melancholic but this one felt honest and had a great vibe.  It felt like a good way to close out the record." 
Gallagher thinks of himself as a singer-songwriter who fronts a rock 'n' roll band.  "I think I'm known for bringing that rock 'n' roll, tent-revival energy whenever I show up," he said.  "Whether it's a tiny club or a beautiful old theater.  Be it strumming an acoustic guitar or fronting a rock band, vibrations always have to be high.  I have a deep appreciation for music and song.  I want to redirect this passion back into the world with every song I write and every move I make." 
The Falcon Ate The Flower will be released on November 3rd, 2023 via Clean Livin' Records.
###
For more information:  https://www.leegallaghermusic.com/ 
Press contact:  Kim Grant | KG Music Press | kim@kgmusicpress.com | 626-755-9022