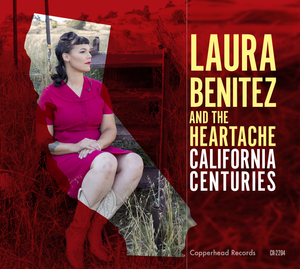 LAURA BENITEZ AND THE HEARTACHE ARE BACK WITH
CALIFORNIA CENTURIES
The Band Delves Deep Into Themes Of Collective Denial, Gaslighting,
And Romantic Lessons Learned (September 9, 2022 Copperhead Records)
Laura Benitez-Lead & harmony vocals, acoustic guitar | Bob Spector-Arrangements, electric and acoustic guitar, bass guitar | Russell Kiel-Bass guitar | Steve Pearson-Drums | Dave Zirbel-Steel guitar | Ian Sutton-Steel guitar, dobro | Amy Scher-Fiddle | Bryan Kilgore & Sarah Schweppe-Harmony vocals
Oakland, CA June 2022—"I'm definitely less afraid to write about difficult or personal topics than I was earlier in my career," admits Heartache leader, Laura Benitez when talking about her newest album, California Centuries. "When I was starting out I wrote more songs in the third person about fictional characters. I really love those songs, too, but for this album I was called to tell my own story warts and all."
Recorded at 25th Street Studios in Oakland, CA, California Centuries is Benitez's 3rd album with the band and her fourth album as an artist. Written and produced by Benitez, she had arrangement help from Bob Spector and engineering help from Gabriel Shepard and Piper Payne.
"Recording this record was like a family reunion for me and my bandmates," Benitez recounted. "I missed them dearly during the pandemic, and for the first two recording sessions I couldn't stop smiling. It was incredible to be back making music again.  For each of the past three albums I released, recording gave me major anxiety. This time, it was a joyful process. And it was like old-home week to work with Gabriel Shepard, our recording and mix engineer, who we've worked with for our last three albums."
The Heartache's last record, With All It's Thorns was a straight-ahead country record, while California Centuries has the band branching into rock, folk, and bluegrass. There's still plenty of country though, and this record helps the band cement their place in the West Coast country sound—a mix of twangy guitars, drums, fiddle, and steel guitar.
With a powerful voice and strong lyrics, Benitez is known for choosing subjects that are unusual and for telling old stories in new ways. "Denial has always been a theme I've explored in my work—specifically the lies you tell yourself to stay in a relationship that isn't working, or the mental gymnastics that allow someone to betray another person's trust.  I explore that theme in this record as well, but I also look at denial's frequent companion, gaslighting, and look at what it takes to challenge the negative perceptions of others."
As the first track on the record, "Bad Things" deals with collective denial- We saw the flames | We heard the shouts | There was only one road in, and only one road out. The song was written a few days before lockdown in March of 2020. "It was clear that lockdown was imminent, and that it would be bad. It occurred to me that it takes a lot of creative thinking and low-grade denial for all of us to get through the day. We listen to the news about disasters happening in other parts of the world, and assume that somehow they won't happen to us. So I wrote three verses about all the things we think won't happen to us, but can, and do."
"Gaslight" came out of the Las Vegas concert shooting and the mass shootings that have taken place all over this country.  "I saw the methods used to try to silence people in the wake of mass shootings are also used to try to silence people of color after incidents of police violence, so I wrote the second verse about the killing of black men at the hands of police and vigilantes.  I wanted the third verse to be about the #metoo movement, but I found myself stuck.  The subject was so triggering and personal that it took me a year to find the right words. There were so many stories, how could I capture them all? In the end I decided to write a story which would be all of the stories in one. The stories differ in detail but the pattern of abuse in the stories is the same." She continues, "I wanted the melody to sound like a modern country song, very pretty and upbeat with a lot of vocal gymnastics. The melody is a protest against the way that modern country artists and songwriters have aligned themselves with conservative values instead of using their platforms to push for social change. So, the song is written and sung from that point of view, and exaggerated to show the hypocrisy of advocating for free speech while trying to silence others.  It makes me furious every time I sing it."
"A Love Like Yours" is where Benitez got the title for California Centuries. "It's a love song I wrote as a tribute to my partner, Bryan Kilgore.  He's a talented musician and long-distance cyclist. Cycling events of 100 miles or more are called 'centuries' and the phrase captures the unique perspective he has as someone who can ride from San Francisco to Mendocino and back in a weekend. Musically, it's joyful and uptempo and a little bluegrass, which is how Northern California sounds in my mind."
The couple has a young daughter, and the folk lullaby, "All Songs" was written to honor her and their family. "In September of 2020, we were living in a trailer in our driveway while the house we were renting underwent lead abatement. The pandemic had already made our world very small, but this meant that no only could we not go out in public, we also couldn't go in our house, and so our yard was our only outlet. Then on September 9th, 2020, the smoke from the wildfires was so bad that the sun didn't rise and the sky was an apocalyptic red all day long.  The air quality was too bad to go outside, so my 11 month old daughter and I were stuck in the trailer.  I knew the world wasn't ending, but part of me felt like it was.  I sang to Ada to keep her entertained, and every time the song ended she would cry until I started singing again.  It occurred to me that it was a perfect metaphor for endings and impermanence; how everything ends, even a favorite song. So that's what I wrote."
Zirbel's pedal steel takes center stage for the final tune, "I'm With The Band". Benitez admits that she missed playing live shows so much that it was a physical ache. "At one point I posted on social media that all I wanted was for someone to spill beer on my shoes! I longed for the feeling of arriving at a venue as a musician, of the camaraderie and anticipation before a show and the joy of connecting with people in a way that only happens through playing music."
Benitez channels joy in the face of adversity on California Centuries, giving us hope that if we can get through the troubles the world throws at us, we can do anything. "I've always felt like an outsider in life, and never fit well into any boxes, and identity, or lack thereof, shows in my music. I don't respect genre boundaries and I don't abide by what's considered okay or not okay to talk about in public. I'm a mixed-race woman playing an extremely white male dominated genre, talking about subjects people are uncomfortable talking about in real life, much less in music." Picking up that thread she adds, "I've thought a lot about it and I think the most important element you can have as an artist is bravery.  If you're brave enough to be open and honest in front of other people and brave enough to put your music out there, you can do great things."
For Benitez California Centuries is really personal. "There are no walls, it's my whole heart on a plate."
California Centuries releases on September 9, 2022.
###
For more information:  http://laurabenitezandtheheartache.com on Copperhead Records
Press Contact:  Kim Grant | KG Music Press | kim@kgmusicpress.com | 626-755-9022