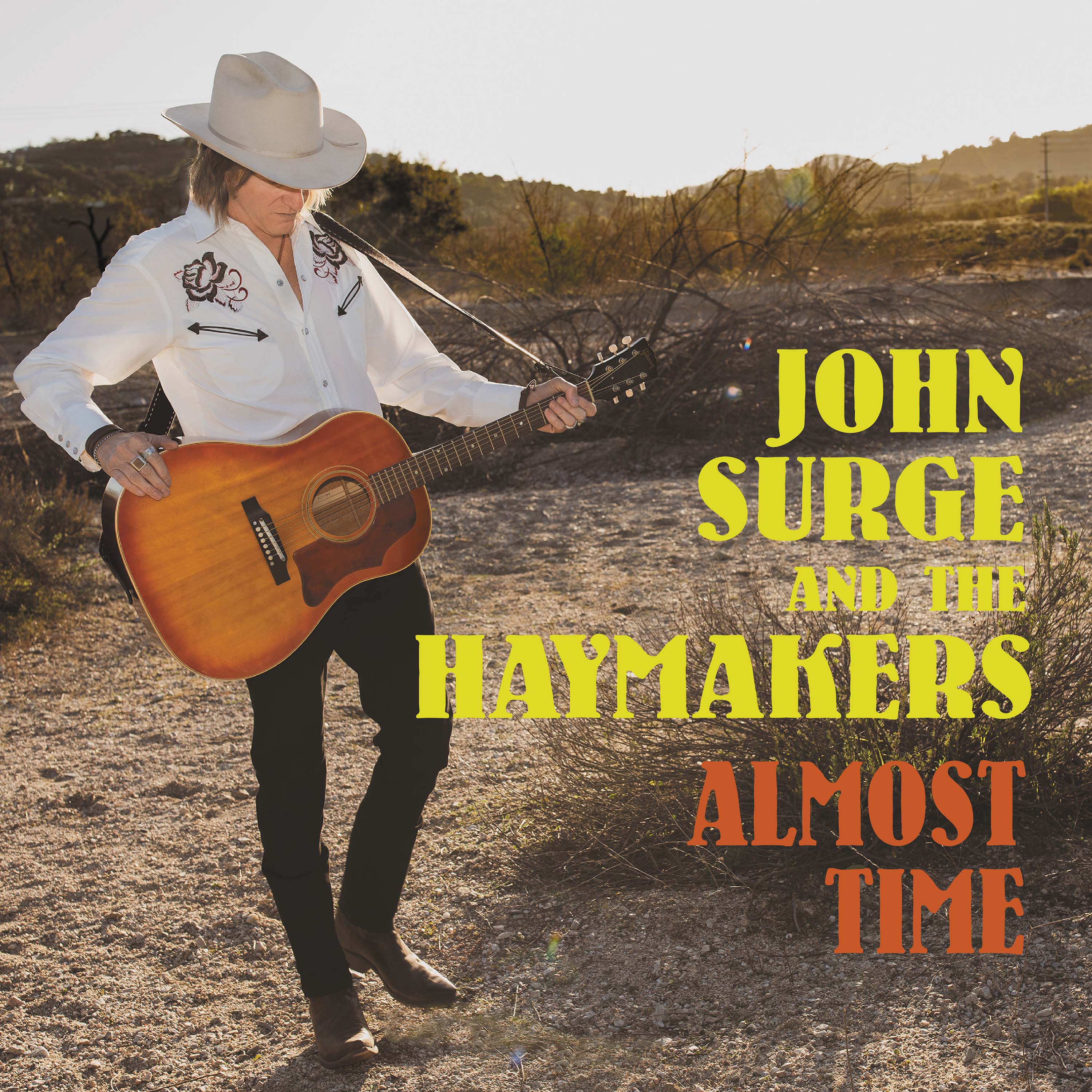 JOHN SURGE AND THE HAYMAKERS TO RELEASE ALMOST TIME 
(SEPTEMBER 15, 2023 - BLACKBIRD RECORD LABEL)
Roadhouse Country Music Produced by Tommy Detamore with a Little Help From
A Texas Team and Some Musical Contributions by Brennen Leigh and Chip Kinman
John Surge-vocals, acoustic guitar | Randy Volin-guitars, harmony vocals | Texas Players: Brad Fordham-bass (Dave Alvin, Hayes Carll) | Tom Lewis-drums (Junior Brown, Heybale) | Floyd Domino-piano (Asleep at the Wheel, Merle Haggard) | Tommy Detamore-steel, guitar (Jim Lauderdale, Sunny Sweeney) | Brennen Leigh-harmony vocals 
Los Angeles, CA - June 2023—In 2019, John Surge and the Haymakers released Your Wonderful Life. In early 2021, having written nothing in 2020, Surge made it a goal to write two songs a week for three months. 17 songs later, he knew it was time to record another album.
"Years ago I heard Sunny Sweeney's 'East Texas Pines' on the radio and I jotted it down," Surge recalls. "I really liked the sound of the production. I was going through some old notebooks around the time I was writing songs for the album and there was the note. I tracked it down to Tommy Detamore and realized he also produced albums for Jim Lauderdale, Doug Sahm and the latest Jesse Daniel record, which I also loved. I made the decision right then to get in touch with Tommy, and he was up for the job." 
Surge enlisted his partner-in-crime Randy Volin from the live Haymakers line-up to make the trip to Floresville, Texas to cut the record with Detamore. "Much to my hesitancy, Randy talked me into driving the 1,400 miles with eight of his vintage guitars, some amps and a stock of Modelo beer. That first night we stayed at one of three 'Worst' Westerns on the trip— I'm a Platinum member," Surge puns. "Of course, we had to unload all that gear every motel stop. It looked like we were setting up a music shop in the motel rooms." 
Calling them the "Austin Haymakers," Surge and Detamore assembled an amazing band to bring life to what were mostly voice memo demos: drummer Tom Lewis, bass player Brad Fordham, and piano legend Floyd Domino. Through Detamore's relationship, noted western swing singer-songwriter Brennen Leigh  was enlisted to provide harmony on 9 of the 10 tracks. "The pace was pretty amazing thanks to these great players," Surge admires. "They have credits that include Merle, Waylon, Lucinda, and the Alvin brothers to name a few. And they were great to work with. We had a blast."  
Nine days later, Almost Time was born. "I would say the thread that runs through the album is barroom tales—people sharing their troubles, bragging, pontificating, revealing their vulnerabilities," explains Surge.  "As a working band, we spend a lot of time in nightspots and there's a lot of unfiltered conversation. I had my antennae up and those moments got captured and expanded into the songs I wrote for this album."
Almost Time consists of 10 songs: 9 originals and one cover—Chip and Tony Kinman's "Big Train." "It's a song they recorded with their post Rank And File project, Blackbird and the western duo Cowboy Nation," Surge explains. "We injected some honky tonk into the song, and then I invited Chip to play on it. We wound up doing a duet while he added harmonica and guitar. Rank And File is a big influence for me and I love honoring bands that mean a lot to me." (On Your Wonderful Life, the band did a Beat Farmer's cover, "Gun Sale at the Church"). 
A lot of honky tonk territory is covered on this record, from the country shuffle of "You're So Right" and the roadhouse country of "Rattle Me," to the Texas sounding "Tricks of the Trade" with Volin and Detamore playing dueling electric rhythm guitars. 
"I Should Have Known" is a duet with Brennen Leigh with a crying pedal steel from Detamore and a beautiful piano solo by Floyd Domino of Asleep at the Wheel fame.  "All You Gotta Do" is a co-write with friend and musician David Serby that features flat picking guitar, fiddle, and dobro. The album ends with a 6/8 country folk song, "Sister Honeybee" that's a tale of a free-spirited woman who follows her own path and makes honey wine. 
"For this record, I wrote more material than I planned to record, and I worked and reworked songs until they got to the right place rather than just taking what came top of mind," said Surge. "The recording was more influenced by Tommy's production than the location. I hear this record as an evolution from the last. It's still spirited, rockin' roadhouse country with this album having a more traditional country instrumentation, including fiddle, more pedal steel, dobro and acoustic guitar. It's a moment in time and only time will tell how people will react to it, but the experience is one I'll always feel was perfect."
Almost Time releases on Blackbird Record Label September 15, 2023
###
For more information:  https://johnsurge.com/ 
https://www.blackbirdrecordlabel.com/ 
Press Contact:  Kim Grant | KG Music Press | kim@kgmusicpress.com | 626-755-9022