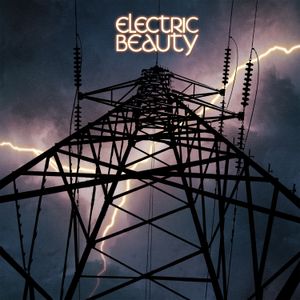 FOR IMMEDIATE RELEASE:
ELECTRIC BEAUTY, A SELF-TITLED DEBUT LP RELEASES OCTOBER 21, 2022
12 Short And Sweet Songs Of Keys-Influenced Pop And Art Rock With A Primo 60s And 70s Guitar Sound
Wayne Hasti: guitars, bass, & vocals | Charlie Pine: vocals, piano, Hammond C3, ARP Omni2 & ProSoloist | Jim Tollefsrud: drums & percussion
Minneapolis, MN August 8th, 2022— Electric Beauty is comprised of three longtime friends who played music together on and off for years in Minneapolis. This album marks a new phase for the musicians. "Jim (Tollefsrud) and I started this because we wanted to play originals," explained Charlie Pine. "And Wayne (Hasti) was the perfect addition for the triangle. We have this uncanny way of communicating because we've known each other so long and have so many shared musical sources. When the three of us are together, we finish each other's sentences."
Guitar player Wayne Hasti is known for his time in underground legends NNB, The Ben Day Dots, The Now Explosion and The Singing None. Charlie Pine was the original fourth member of Husker Du, playing on their first couple of gigs. He also spent five years as the first manager and producer of the legendary band, The Jayhawks. In and out of many scenes he spent time with the band, The Tuesday Welders for 15 years (with Jim on drums). Jim Tollesfrud has been an in-demand drummer in the Twin Cities for years with influential groups such as NNB, Safety Last and The Front Porch Swinging Liquor Pigs. The years of playing rock n' roll that have inspired and excited them led to the creation of Electric Beauty.
The album was produced by the band and recorded at Gold Sky Studio in Minneapolis. It was engineered by Jim Tollefsrud and mixed by Tom Herbers with Charlie. It was mastered by Greg Reierson at Rare Form Mastering. Hasti sang two of his songs and contributed three instrumentals to the album with Pine writing seven of the songs and co-writing an instrumental with Hasti.
"My songs aren't meant to be True Confessions, nor should they be viewed as personal diary entries," claims Pine. "I used to write songs on and off years ago. But I wasn't happy with most of them. It wasn't until I started writing as an observer vs. in the first person that I became comfortable as a lyricist."
The songs were all written between 2017 and 2019 with the exception of "Lonely at the Top". That was written in 2016 and tried out by The Tuesday Welders before they dissolved. "It was a purple patch for me," said Pine. "I wrote a lot. Most of the songs came quickly. I compose on piano. It always starts with the music, a chord progression, motif or melody. The words come later." Some of the songs come faster and easier than others. "Cindy's Gone Away" was written in about thirty minutes. "The music and melody just happened one winter afternoon and the lyrics for the first two verses immediately followed. That song was like received magic."
The songs are short and sweet and most come in under three minutes."They know when it's time to go" quips Pine. "The general structure of the songs didn't change much from my piano demos to final tracking. But I wanted Wayne and Jim to embellish them with their own seasoning. For instance on "Modern Lovers" and "Lonely at the Top" the intro guitar line you hear Wayne playing at the beginning and during those songs were composed on piano. But I heard them, along with that guitar tone and that's what I wanted. And Wayne will do it because he's into doing specific guitar parts. Just listen to him playing on his instrumentals. It's all composed. He relishes that method and will work at it until it's right."
"I wore the grooves off Bowie's Low," said Hasti. "It inspired three of the instrumentals on this album. 'Something for No One' will be remembered as the song where everything melts at the end. A temporary abandonment of the diatonic scale to clear the palette."
According to Hasti, "Count Backwards shows the band's darker side."Time signature changes and a channeling of Jeff Beck give this song it's gravitas."The NNB vibe has been infused into the mix. The only Hasti/Pine collaboration,"The Awakening" has Bowie/NNB/Eno written all over it. It's infectious melancholy mood leaves you floating in space as it reluctantly ends."
"I think the entire album has a certain logic and flow to it," adds Pine."The sequencing just works. I can't imagine hearing it differently now. I don't think there's really anything else I would change about how the songs were performed or recorded."
Electric Beauty is an album for listeners of all ages who enjoy infectious well-crafted rock/pop songs. "I hope what comes across to the listener is a sense of joy and balance," muses Pine. "Some of the songs are serious, some are playful. It sure was a hell of a lot of fun making this music."
###
For more information: www.electricbeautymusic.com
Press Contact: Kim Grant | KG Music Press | kim@kgmusicpress.com | 626-755-9022