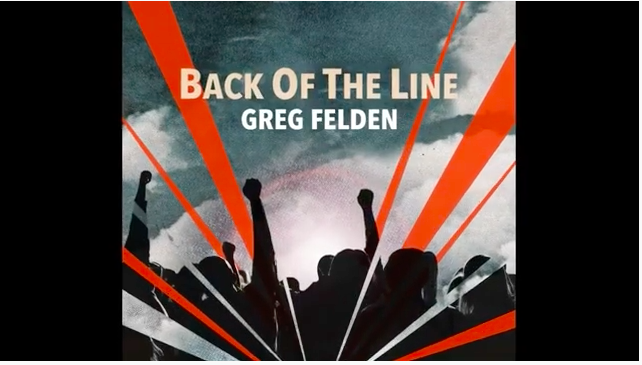 New video/single from Greg Felden "Back of the Line"!  Produced by Al Sgro,music and lyrics Greg Felden. He will be donating the proceeds from sales of the single to several worthy organizations over several weeks with the first up being Stacy Abrams 'Fair Fight'. https://www.fairfightinitiative.org/ 
The video first premiered at Twangville. 
Greg Felden's unique blend of roots and indie sounds has been praised by outlets like No Depression, The Bluegrass Situation, and Folk Alley for its honesty, intelligence and emotional gravity. His songwriting shows impressive range - appealing to lovers of country, folk, and indie rock alike. Hailing from the Pacific Northwest, Greg is now based in Los Angeles, where he is a staple of the Americana scene, earning respect and fans with his finely-crafted songs, captivating delivery, and all-star band. 
From Greg Felden:  "Have you seen the lines to vote in Georgia? Voter suppression, especially for voters of color and young voters, is a serious problem. That's what Stacey Abrams' Fair Fight Action is all about. They're supporting voters and fighting for free and fair elections in Georgia and nationwide. 
That's important to me. And that's why all proceeds from the sale of the single this week will go to them. Buy the song on Bandcamp or Venmo me @Greg-Felden with your email and I'll send you a download. Watch, listen, donate here: https://linktr.ee/gregfelden" 
Shot by each musician in their own homes, the video is a collaborative performance video of the song in the making. The group effort it took to create it, under the circumstances of the pandemic, captures the spirit of the song itself. 
https://www.gregfelden.com/ 
"I wrote the song in response to all that is going on culturally and politically in this country. It's a statement to the individuals, systems, ideas, and attitudes that have held us back for too long and that stand in the way of inclusion, empathy, and real opportunity - like racism, misogyny, xenophobia, economic and environmental injustice. It's a call to action for all of us, and a reminder that we've stood up before and that we can and will stand up now. 
I wrote the song a while ago, but hadn't decided whether to record or release it. I decided I want to do all I can to be a partner to the groups and causes that are overdue for our attention. Writing music is one of the things I can do." 
Song credits: 
Greg Felden - lead vocals, rhythm and lead guitar 
Al Sgro - drums, backing vocals 
Ed Maxwell - bass 
Jerry Borger - keys 
Brandon Walters - lead guitar 
Video Directed loosely by Greg Felden 
Edited by Michael Greer